Volunteer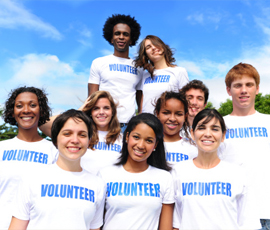 Volunteer Manitoba is the leader and catalyst for engaging all Manitobans in volunteerism.
Volunteer Manitoba supports groups and individuals in the voluntary sector to develop and enhance their capacity to anticipate, understand, celebrate, and meet community needs in Manitoba.
Our vital contributions to the community include connecting people with volunteer opportunities, promoting volunteerism, and providing leadership and counsel in the voluntary sector.
In this section of the website, you can find information on the following:
Volunteer Referral Service - For individuals seeking volunteer opportunities
Non-Profit and Charitable Organizations - How to register and post your opportunities
Book a Classroom Presentation! - Volunteer Manitoba is pleased to deliver classroom presentations on the benefits of community engagement and how to find the right volunteer opportunity.
SPARK - Spark works to match community organizations in Winnipeg with volunteers who have specialized skills.
A United Way Day of Caring - a unique opportunity for employees, students and other groups to come together and make a difference in our community by taking part in meaningful volunteer projects with local community organizations.
---
Student Volunteer Recruitment Fairs
GET INVOLVED. GET EXPERIENCE. MAKE A DIFFERENCE.
Volunteer Manitoba is pleased to partner with post-secondary institutions to bring you our annual Volunteer Recruitment Fairs. These volunteer recruitment fairs are a fantastic way for students to connect with non-profits and charities who are actively recruiting volunteers on behalf of their organizations.
Student recruitment takes place every year in September and October at the following schools:
University of Winnipeg
University of Manitoba
Red River College - Notre Dame Campus
If you work for a non-profit, charity or community organization and would like to receive more information on how you can participate, please contact:
Dawn Bourbonnais
Manager, Communications and Outreach
Ph: 204-477-5180, ext 230 E: dawn.bourbonnais@volunteermanitoba.ca
---
Volunteer Referral Service
We are very pleased to offer a free referral service, which matches individuals who have an interest in volunteering with agencies who are seeking volunteers. Volunteer opportunities can be accessed through our website, which lists the opportunities by category and region.
If you are an individual, or part of a group, and wish to become a volunteer, please visit the volunteer opportunities section to see a list of current volunteer opportunities across the province. You can then apply online or contact the organization/agency directly.
If you are interested in volunteering and would like assistance with your search you can book a ½ hour consultation with a referral volunteer to determine your skills sets and interests. We will then assist you in finding a position that best matches what you are looking for. During a consultation the referral coordinator will talk to you about your objectives and skills and why you want to volunteer. We will use our online volunteer postings to help you select a few positions that might be right for you. After meeting with us, you will then be ready to contact the individual organization directly in order to proceed. (Please note: Interviews and screening processes are performed directly by the agencies.)
To book a referral appointment, please call us at (204)477-5180.
---
Non-Profit and Charitable Organizations
The Volunteer Opportunities section of our website allows you to recruit experienced and dedicated volunteers from across Manitoba.
Download instructions on how to register your organization here.
New volunteer opportunities are also forwarded in form of weekly PSAs to the Free Press and other media (if applicable), educational institutions and other key organizations for distribution to their audiences. The Free Press publishes volunteer opportunities on our behalf every Monday.
To have an opportunity published in the Free Press, please submit 2-3 sentences describing the opportunity along with your contact information. Submissions need to be received by the Communications and Outreach Assistant no later than Tuesday, 4 pm, for inclusion in the following Monday's paper (please note, the Free Press retains editorial control and volunteer opportunities may be edited, or held over, on the discretion of the Free Press).
---
SPARK
Spark works to strengthen and build the capacity of community-based organizations in Winnipeg who include or benefit the city's marginalized populations. Spark staff meet with organizations to help them map out where they are in their developmental path, what their strengths and challenges are, and then connects them to resources in the community who can help improve what they are doing now or start new initiatives. These resources are often volunteers who bring specialized professional skills to the project.
These matches with volunteers with specialized skills build and strengthen the capacity of community groups and organizations who are working for positive change in Winnipeg. Recently, Spark has made matches that led to community organizations addressing challenges related to organizational planning and development, communications and marketing, accounting and bookkeeping, and IT (information technology), among many other things.
Spark is a service provide by the Canadian Community Economic Development Network, a national member-based coalition committed to strengthening Canadian communities by creating better economic opportunities and enhancing environmental and social conditions.
If you are a Winnipeg-based community organization who would like some assistance, or a volunteer with specific professional skills who would like to help build a better community, go to www.sparkwpg.ca for more information, and contact the Spark staff at 837-7275 (83-SPARK) or spark@ccednet-rcdec.ca.
---
A United Way Day of Caring
A United Way Day of Caring is a unique, year-round opportunity for co-workers and other groups to make a difference in Winnipeggers' lives by working together on meaningful volunteer projects with local community organizations that focus on:
· Helping kids be all they can be;
· Moving people from poverty to possibility; and
· Encouraging healthy people and strong communities
United Way will match your volunteer group with a non-profit organization to complete a project that complements your priorities, skills, schedule and available people power. Most projects require between five and 20 volunteers, take an average of four weeks to plan, and one-half to one full day to complete.
Past projects have included:
- Helping host a special event like a community barbeque or holiday party
- Working alongside community residents to help beautify a neighbourhood by planting flowers, building a community garden, or participating in a community cleanup
- Collecting donations of much-needed items, including gently used clothing or household goods, hygiene products, or new socks and underwear
If you have an idea for a project not already on our list, we'll be happy to explore the need and opportunities.
If you are a non-profit organization in Winnipeg that needs help completing a short-term project, please contact United Way. A Day of Caring is an opportunity to accomplish tasks beyond what your budget and resources may allow. It's also a good way to put your work and your clients' needs at the forefront of Winnipeggers' minds.
If you are interested in hosting or participating in a Day of Caring, contact doc@unitedwaywinnipeg.mb.ca or call 204-477-5360.
---
For more information on our Volunteer Referral & Outreach Services, please contact:
Dawn Bourbonnais
Manager, Communications and Outreach
E: dawn.bourbonnais@volunteermanitoba.ca
P: (204) 477-5180 ext 230