Volunteer Awards
37th Annual Volunteer Awards
Thursday, April 9, 2020
Club Regent Events Centre - 1425 Regent Ave West | Doors Open at 5pm, Dinner begins at 6pm
Deadline for nominations is
Friday January 31, 2020
---
Volunteer Manitoba and Manitoba Liquor & Lotteries are thrilled to once again host the Annual Volunteer Awards Dinner, which honours the contributions that individuals and groups have made to enrich the lives of Manitobans.
Volunteers have an enormous impact on the health and well-being of communities here in Manitoba. Did you know that in 2013, 12.7 million Canadians contributed over 2 billion hours without receiving a penny for their time? Imagine what our communities would look like if people stopped donating their time. How many resources and services would no longer be available to us? How many non-profit organizations would shutter their doors?
For over 40 years, Volunteer Manitoba has proudly promoted, supported and celebrated community engagement in Manitoba and we are thrilled to be able to recognize the hard work and commitment of Manitoba's volunteers with the Annual Volunteer Awards Dinner.
Every year, thousands of volunteers across the province dedicate their time to the many non-profit and charitable organizations here in Manitoba. Without the help of these tireless individuals and groups, many of our non-profits, community groups and charities would no longer be able to provide supports and services to thousands of people across the province.
From hands-on volunteers to those leaders who serve on boards, it's next to impossible to calculate the value that volunteers bring to our communities. By nominating a volunteer, you are helping us recognize these outstanding individuals and community groups for their achievements, their dedication to the community we share and their excellence in volunteerism.
To celebrate these incredible Manitobans, we invite you to submit a nomination on their behalf for the 37th Annual Volunteer Awards!
---
We are seeking volunteers for the VM Awards Fundraising Team! Interested in helping out? Check out the job description!
---
Thank You!
For thirty-seven years, sponsors and supporters have been helping Volunteer Manitoba recognize the incredible contributions that volunteers make in our communities across the province. We are incredibly grateful for the support we have received to date, without which we would not be able to produce the Annual Volunteer Awards Dinner.
On behalf of the board and staff of Volunteer Manitoba, thank you to our Volunteer Awards Dinner sponsors!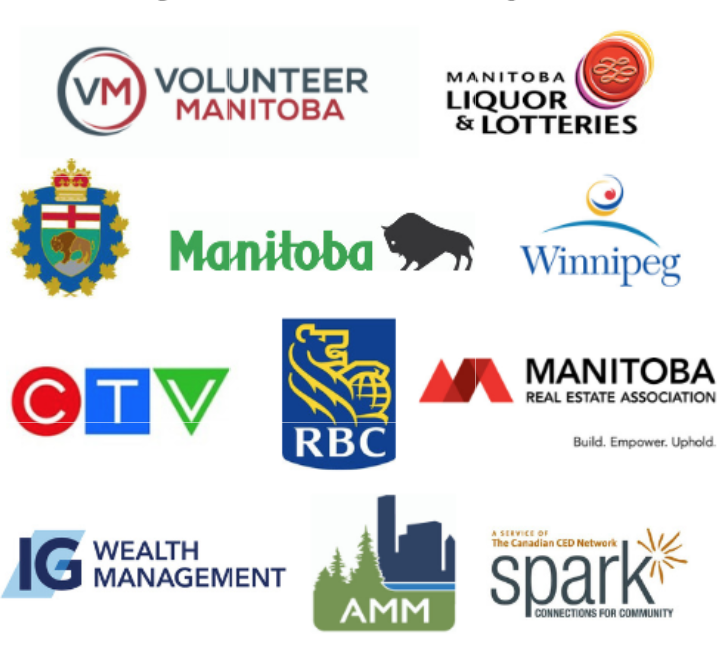 ---
Need Help?
For assistance with your nomination, please contact us at 204-477-5180 or email awards@volunteermanitoba.ca
You can also download our Nomination Letter Writing Tips and/or the Nomination Letter Template to help you with your nomination.
For all other inquiries related to the Annual Volunteer Awards Dinner, please contact:
Dawn Bourbonnais, Manager, Communications & Outreach
E: dawn.bourbonnais@volunteermanitoba.ca
P: 204.477.5180 (ext. 230)
---
Photos from the Annual Volunteer Awards Dinner can be seen on our Facebook Page!
---
Lieutenant Governor's Make a Difference Community Awards
Premier's Volunteer Service Awards
Mayor's Volunteer Service Awards
Manitoba Liquor & Lotteries Family Award
The IG Wealth Management Financial Confidence Champion Award
RBC Bright Future Award
Manitoba Real Estate Association (MREA) Shelter Foundation Award
Association of Manitoba Municipalities (AMM) Community Leadership Award
The William Norrie Arts & Culture Volunteer Award
Spark Outstanding Pro Bono Consultant Award
The CTV Champion of Mental Health Volunteer Award