Volunteer Awards
37th Annual Volunteer Awards
Thursday, April 9, 2020
Club Regent Events Centre - 1425 Regent Ave West | Doors Open at 5pm, Dinner begins at 6pm
Deadline for nominations is
Sunday March 8, 2020
Announcing our Newest Award!
Volunteer Manitoba is thrilled to announce a brand new award that recognizes the incredible work being done by Volunteer Leaders in communities across Manitoba. The Barb Gemmell Catalyst Award for Excellence in Volunteer Management recognizes that the ability to inspire and influence, whether it be volunteers, community partners, management, or other staff, is at the core of being a leader of volunteers and is critical to the success of every volunteer program - large or small - in the province of Manitoba.
To learn more about the award, and how to submit a nomination, click here! The deadline to nominate a volunteer leader for the Barb Gemmell Catalyst Award is March 8, 2020!
---
Volunteer Manitoba and Manitoba Liquor & Lotteries are thrilled to once again host the Annual Volunteer Awards Dinner, which honours the contributions that individuals and groups have made to
enrich the lives of Manitobans.
Volunteers have an enormous impact on the health and well-being of communities here in Manitoba. Did you know that in 2013, 12.7 million Canadians contributed over 2 billion hours without receiving a penny for their time? Imagine what our communities would look like if people stopped donating their time. How many resources and services would no longer be available to us? How many non-profit organizations would shutter their doors?
Every year, thousands of volunteers across the province dedicate their time to the many non-profit and charitable organizations here in Manitoba. Without the help of these tireless individuals and groups, many of our non-profits, community groups and charities would no longer be able to provide supports and services to thousands of people across the province.
For over 40 years, Volunteer Manitoba has proudly promoted, supported and celebrated community engagement in Manitoba and we are thrilled to be able to recognize the hard work and commitment of Manitoba's volunteers at the 37th Annual Volunteer Awards Dinner!
If you are interested in giving back to a non-profit organization by supporting an individual to attend the volunteer awards, are part of a company that would like to give back to the community, or you are interested in supporting this event, please read the Volunteer Awards Dinner - Sponsorship Package.
---
Thank You!
For thirty-seven years, sponsors and supporters have been helping Volunteer Manitoba recognize the incredible contributions that volunteers make in our communities across the province. We are incredibly grateful for the support we have received to date, without which we would not be able to produce the Annual Volunteer Awards Dinner.
On behalf of the board and staff of Volunteer Manitoba, thank you to our Volunteer Awards Dinner sponsors!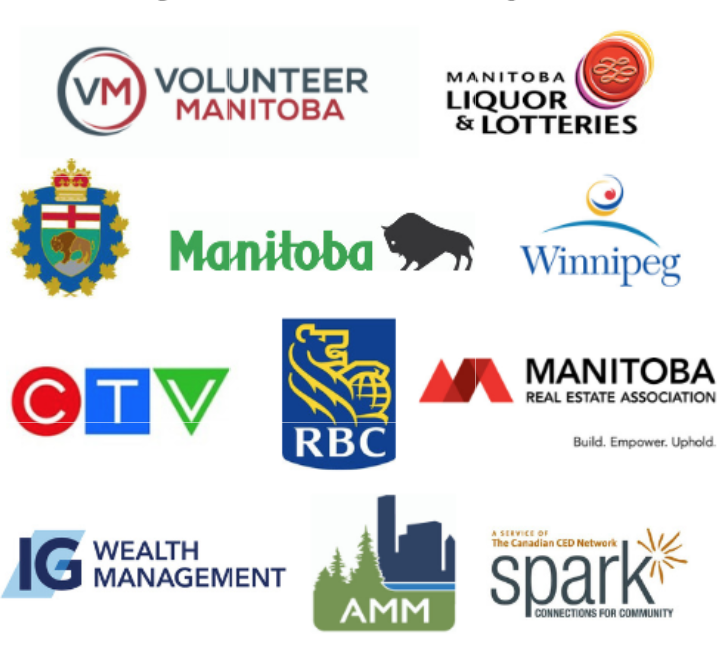 ---
If you have any questions about the volunteer awards, please contact:
Dawn Bourbonnais
Manager, Communications & Outreach
E: dawn.bourbonnais@volunteermanitoba.ca
P: 204.477.5180 (ext. 230)
---
Photos from the Annual Volunteer Awards Dinner can be seen on our Facebook Page!
---
Barb Gemmell Catalyst Award for Excellence in Volunteer Management