VM Resources
Resources on COVID-19
Please visit our COVID-19 Resources page for information to help non-profits, charities, volunteer programs and volunteers adapt and respond to the COVID-19 pandemic.
---
VM's Non-Profit Drop-In Centre
Our Non-Profit Drop-In Centre is a free space available for non-profits, charities and grassroots organizations to work, research, network and collaborate. Our goal is to provide a place for organizations and individuals to use and access services that support and build the capacity of the Non-Profit Sector in Manitoba.
Resources available include:
Grant Connect! An online database of grants available in Canada (developed by Imagine Canada)
A Resource Library with a selection of books focused on subjects relevant to the non-profit sector. These subjects include fundraising, grant writing, volunteer management and more!
Meeting space is available (must be booked in advance)
Computers
Printing services
Photocopying services (available for a small fee)
The Drop-In Centre is open Monday to Friday, 9:00 am to 4:30 pm. The Drop-in Centre is available at a first come first serve basis. If you are interested in booking a meeting space please contact us (meeting space bookings may be accommodated outside regular hours).
You can read up on our Non-profit Drop-in Centre Policies here.
For more information on the Drop-In Centre, or to book a meeting space, please contact:
Sarah Chan
Community Relations Coordinator
P: 204-477-5180 ext 234
E: sarah.chan@volunteermanitoba.ca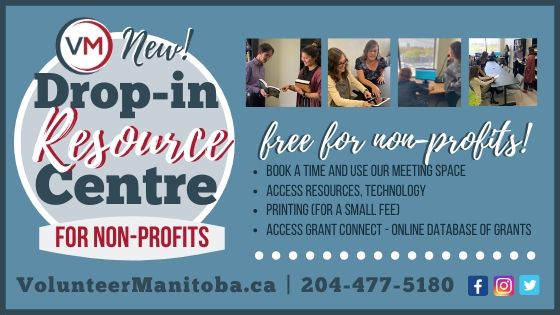 ---
Community Information & Referral
Information and Referral is the art, science and practice of bringing people and services together.
When people need to know where and how to access a service, it can be difficult to know where to start. These services range broadly from housing and senior resources, all the way to information on what to do during wildfires and natural disasters. I & R Specialists work as community curators and navigators to connect up-to-date information to those in need.
Every day, thousands of people get help quickly, conveniently and free of charge because of I & R services.
---
211 Manitoba
211 Manitoba is a searchable online database of government, health, and social services that are available across the province. This service helps Manitobans who are looking to find the right community or social resource but don't know where to start. 211 Manitoba also makes it easy for service providers and first responders to direct others to the right resource.
Services are grouped together into categories that include food and clothing, housing and homelessness, health, mental health, employment, newcomers, children and parenting, and youth.
211 Manitoba is a partnership between United Way Winnipeg and Volunteer Manitoba. Development is further enhanced by a province-wide advisory committee, the Province of Manitoba, the Winnipeg Regional Health Authority, United Ways in Manitoba, 211 Canada, and our funding partners and donors.