2022 Volunteer Management Hybrid Conference
October 18, 2022
08:00 AM to 02:00 PM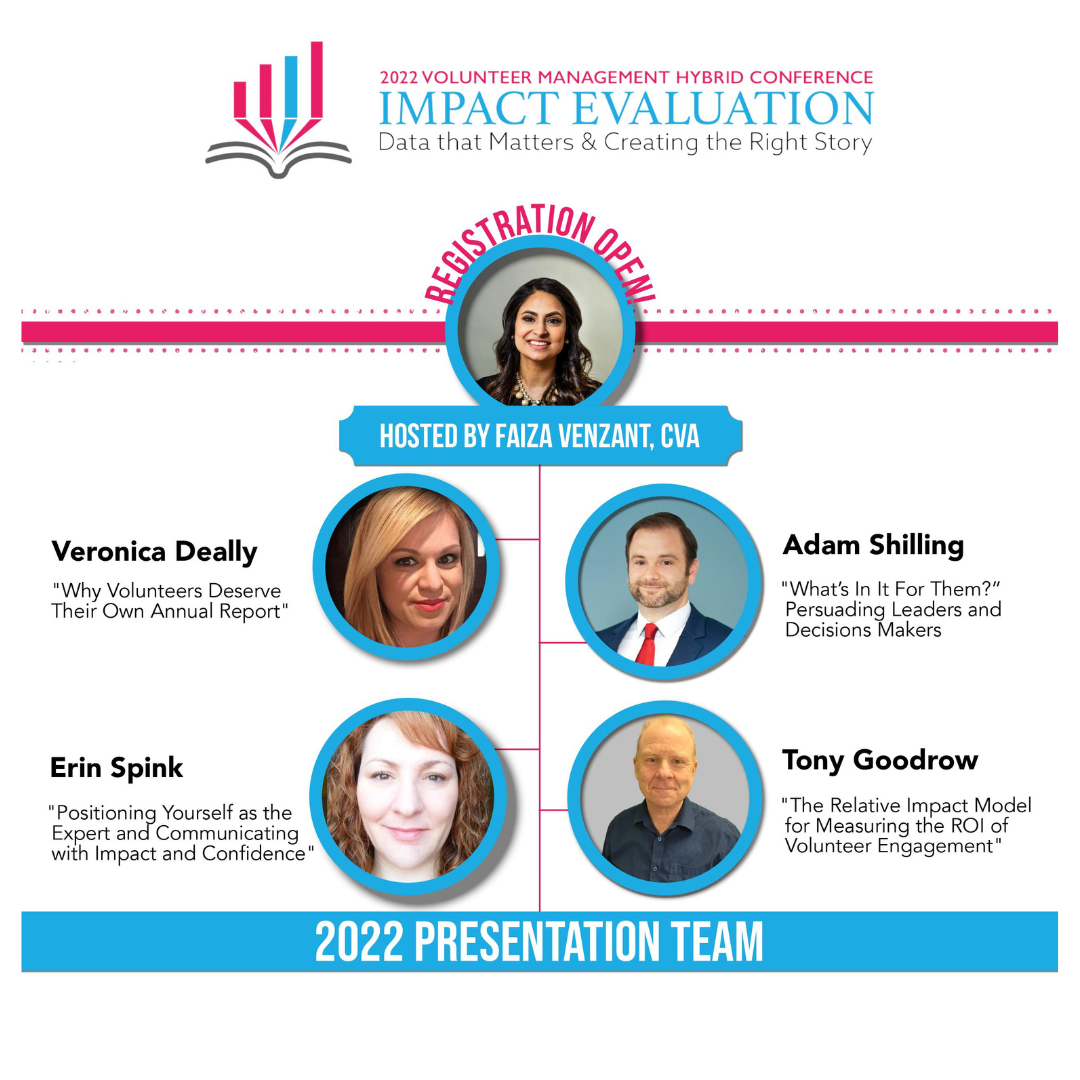 Everyone is being expected to take advantage of data, no matter what their size, mission, or budget. Decision makers want organizations to use data to show their value beyond what the financials show. But it's more than that. It's also knowing what data is important and telling the story behind the data that really matters.
With limited resources, how do agencies partnering with volunteers choose an approach that combines the right mix of data and tools to provide insight relevant to your organization? And where is it going to come from?
This year's Volunteer Management Hybrid Conference will focus on equipping leaders of volunteers with skills to determine what data is useful and how to tell impactful stories using different tools and technologies.
We are pleased to announce our speakers for this years Volunteer Management Hybrid Conference.
Veronica Deally - Why Volunteers Deserve Their Own Annual Report
Adam Shilling - What's In It For Them?" Persuading Leaders and Decisions Makers
Erin Spink - Positioning Yourself as the Expert and Communicating with Impact and Confidence
Tony Goodrow - The Relative Impact Model for Measuring the ROI of Volunteer Engagement
Who should take this course:
Volunteer managers, volunteer coordinators, and those who supervise volunteers.
Certified in Volunteer Administration (CVA) Credential:
Points earned from attending this training, webinar, or conference workshop can be applied towards the education requirement for initial CVA Certification or CVA Renewal. CVA certification is the only internationally recognized credential in the field of Volunteer Administration. To learn more, visit: www.cvacert.org.
Location:
Virtual: Participants have the option to join the live presentation online via Zoom. If you would like to attend virtually, please choose this option in the registration form.
Accommodations - In Person Events
Volunteer Manitoba strives to host inclusive, accessible workshops that enable all individuals to engage fully. If you require any accommodations to participate in our training, please indicate so on the registration form.
Because the chemicals in scented products make some people sick, Volunteer Manitoba requests that our participants not wear any perfume, cologne, aftershave or other fragrances that can affect others.
Location:
In Person OR Virtual
Cost:
$60.00
---