2023 Volunteer Management Hybrid Conference
October 18, 2023
08:30 AM to 02:30 PM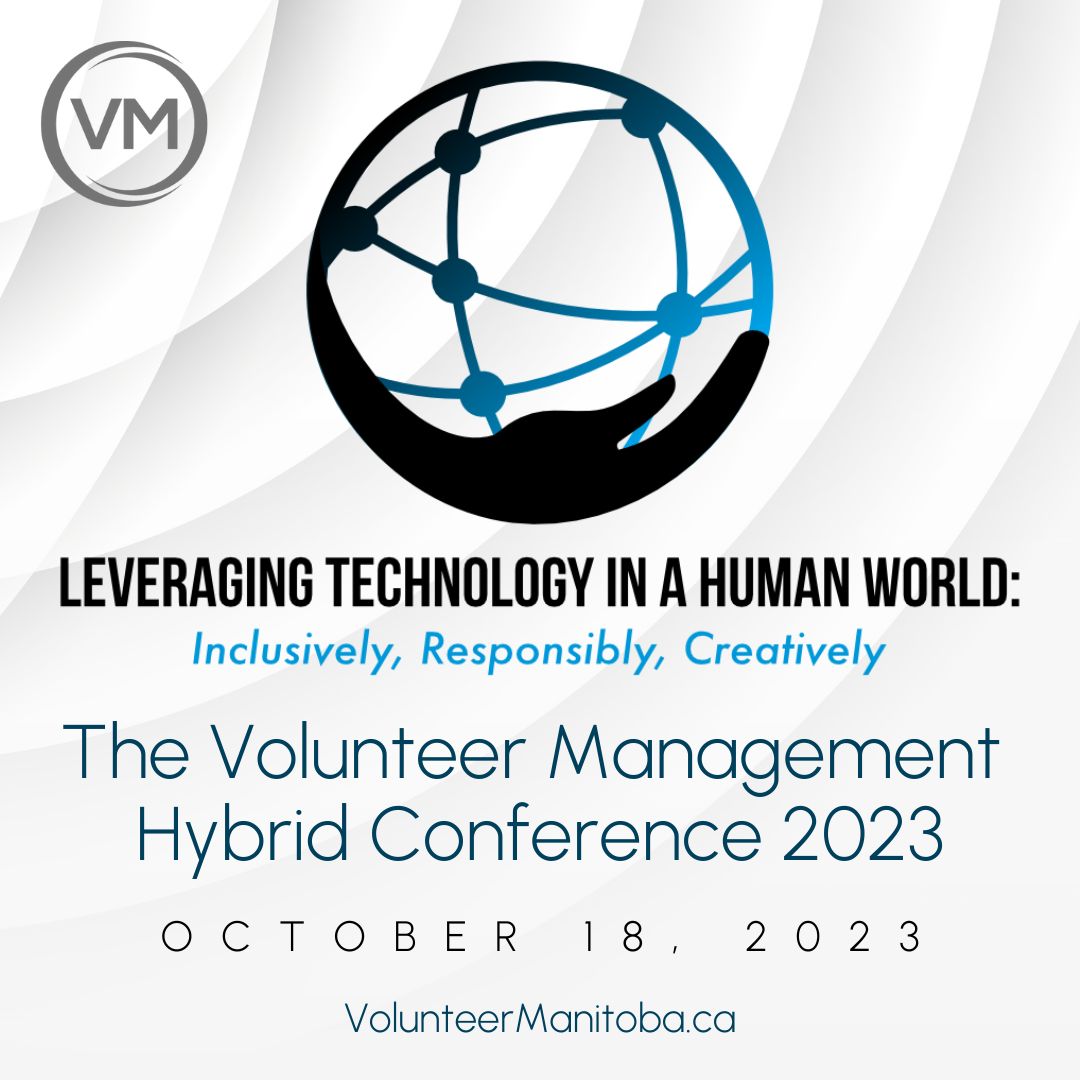 We are so excited to announce we are again hosting the Volunteer Management Hybrid Conference!
For those that attended last year - yes, we got the date right this year! : )
We are inviting everyone that works with volunteers to join us on:
October 18th from 8:30am - 2:30pm
at Sport Manitoba.
It is an opportunity to network and learn with other volunteer engagers!
Proudly presented by VMPC (Volunteer Management Professionals of Canada), Better Impact, and AL!VE (Association of Leaders in Volunteer Engagement), the 2023 Volunteer Management Hybrid Conference is an event that brings together experts in the field of volunteer management.
Our hybrid format ensures that both in-person and virtual attendees will have equal access to the wealth of knowledge and expertise on offer. Whether you join us on-site or connect remotely, you'll have the chance to network with industry leaders, exchange experiences with peers, and forge meaningful connections that will strengthen your professional journey.
(Please note we are closing registration on October 15th)
What is this year's topic?
The generation of volunteers in the not-too-distant future will be very different compared to volunteers now. How can we prepare our policies, programs and recruitment in an inclusive, responsible, and creative way that leverages technology in a human world?
Under the theme of "Leveraging Technology in a Human World: Inclusively, Responsibly, Creatively," the conference will focus on learning about technology and how to use it in our programs. The world of volunteering is rapidly evolving, and the next generation of volunteers is sure to bring changes. As we anticipate this transformative future, our mission is to equip leaders of volunteers with the knowledge and tools to navigate the dynamic intersection of technology and humanity.
How does the format work?
The conference will consist of four 20-minute presentations, local discussion among us in person, followed by a moderated discussion with the other presenters (think Ted talk meets late night tv), including responding to questions from the audience.
The broadcast will be streamed live in the United States and Canada, with the likelihood of an audience of 1000 or more.
The Speakers!
Rob Jackson is Director of Rob Jackson Consulting Ltd, a consultancy and training company that helps engage and inspire people to bring about change. Rob has almost 30 years experience working in the voluntary and community sector, holding a variety of strategic development and senior management roles that have focused on leading and engaging volunteers.
Beth Kanter is a well-established international nonprofit thought leader and author. Her first book, The Networked Nonprofit, introduced the sector to a new way of thinking and operating in a connected world. Her second book, Measuring the Networked Nonprofit, is a practical guide for using measurement and learning to achieve social impact. Her third book, The Happy, Healthy Nonprofit: Strategies for Impact Without Burnout, was the first book to advocate for personal and workplace resilience in the nonprofit sector. Her fourth book, The Smart Nonprofit, examines the impact of artificial intelligence for nonprofits. Beth will be presenting about keeping the human and inclusive touch in technology.
Stephan Dobri has always been interested in using engineering to help improve the lives of other people. The desire to help others lead him to complete his Ph.D. in Biomedical Engineering with the Building and Designing Assistive Technology (BDAT) Lab at Queen's University, where he learned more about universal and user-centred design, and assistive devices. Through the BDAT Lab and subsequent teaching at Queen's, Stephan learned about Makers Making Change (MMC) and he jumped at the opportunity to join the Engineering and Outreach teams. Stephan will be presenting creative ways technology is helping volunteers and programs.
Tony Goodrow, CEO, Better Impact. Tony Goodrow is the founder and CEO of Better Impact, a software company that has been helping leaders of volunteer since 2001. He and the Better Impact team of 30 now work with over 3,000 organizations around the world. Tony will be presenting about the responsible and secure ways to manage technology.
Who should take this course:
Volunteer managers, volunteer coordinators, and those who supervise volunteers.
Certified in Volunteer Administration (CVA) Credential:
Points earned from attending this training, webinar, or conference workshop can be applied towards the education requirement for initial CVA Certification or CVA Renewal. CVA certification is the only internationally recognized credential in the field of Volunteer Administration. To learn more, visit: www.cvacert.org.
Location:
Virtual: Participants have the option to join the live presentation online via Zoom. If you would like to attend virtually, please choose this option in the registration form.
Accommodations - In Person Events
Volunteer Manitoba strives to host inclusive, accessible workshops that enable all individuals to engage fully. If you require any accommodations to participate in our training, please indicate so on the registration form.
Because the chemicals in scented products make some people sick, Volunteer Manitoba requests that our participants not wear any perfume, cologne, aftershave or other fragrances that can affect others.
Location:
In Person OR Virtual
Cost:
$65.00
---