Spark Outstanding Pro Bono Consultant Award
39th Annual Virtual Volunteer Awards
Saturday, October 1, 2022
Stay tuned for more information!
Deadline for nominations is
Sunday June 5, 2022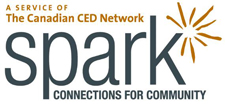 Spark will present an award in the Outstanding Pro Bono Consultant Award category. The award will go to an individual or company who has shown themselves to be a leader in the community, providing pro bono services to Winnipeg's community development and community economic development organizations through the completion of a successful match (or matches) facilitated by Spark.
Spark is a Winnipeg-based service of the Canadian Community Economic Development Network. Their purpose is to strengthen community groups dedicated to social and economic change. To do that, they pass on knowledge, resources, and expertise through referrals, workshops, and pro bono matches with skilled professionals.
Spark is committed to getting people engaged with the important poverty reduction and community building work that local organizations do, by getting professionals involved through volunteering their skills.
Eligibilty Criteria
Nominees include any individual or business who has completed one or more Spark matches over the past two years.
Nominees should have demonstrated one or more of the following characteristics:
A commitment to using their professional skills to address Winnipeg's social issues
Outstanding leadership and co-ordination
A depth of professional knowledge and quality of expertise
How to Submit a Nomination
Complete the online nomination form (see below)

In the section Reason for Nomination please provide a description of the pro bono consultant's assistance, including information on the organizational challenge that required Spark's assistance, the activities/methods used to solve the challenge, and how the match has changed the organization.
If possible, please reflect on the pro bono consultant's commitment to using their professional skills to effect positive change in Winnipeg

Attach to the online form any supporting information you wish the jury to review. This could include: supporting letters (no more than 2), newsletter clippings (please submit only information pertaining to the nominee, and not a full newsletter), media coverage, or photos.
Please note, you can only upload one attachment so please combine your information into one document. If you are not able to do so, please email additional information to awards@volunteermanitoba.ca and include the nominee's name and the award category in the subject line.
Judging
An independent panel of judges reviews all nominations and will select the award recipient(s). If selected as a recipient, nominees will be notified in early June.
Nomination Forms