Spark Outstanding Pro Bono Consultant Award
35th Annual Volunteer Awards
Thursday, April 19, 2018
Victoria Inn
Deadline for nominations is
Friday February 2, 2018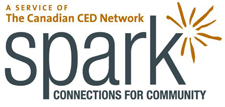 Spark will present an award in the Outstanding Pro Bono Consultant Award category. The award will go to an individual or company who has shown themselves to be a leader in the community, providing pro bono services to Winnipeg's community development and community economic development organizations through the completion of a successful match or matches facilitated by Spark.
Who can be nominated?
Any individual or business who has completed one or more Spark matches over the past two years, using their professional skills to assist a local organization.
Criteria for the award:
Commitment to using their professional skills to address Winnipeg's social issues
Outstanding leadership and co-ordination
Depth of professional knowledge and quality of expertise
Outcome and impact of the match
Submitting a nomination:
Please attach supporting documentation describing the pro bono consultant's assistance, including the following (two pages or less):
Identify the organizational challenge that required Spark's assistance
Explain the activities and methods the volunteer used to solve the challenge. Were there any obstacles the volunteer had to overcome?
Briefly describe the leadership and co-ordination skills they demonstrated during the match
How has the match changed things for your organization?
If able, please reflect on the pro bono consultant's commitment to using their professional skills to effect positive change in Winnipeg
Summary of why your nominee should receive the award
Nomination Forms