Lieutenant Governor's Make a Difference Community Award
35th Annual Volunteer Awards
Thursday, April 19, 2018
Victoria Inn
Deadline for nominations is
Friday February 2, 2018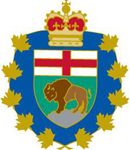 Call for Nominations
Launched on the occasion of the International Year of Volunteers 2001, the Lieutenant Governor's Awards recognize individuals for their exceptional contributions to the community through voluntary service.
Having spent many years in the voluntary sector, The Honourable Janice C. Filmon, C.M., O.M., Lieutenant Governor of Manitoba celebrates volunteerism as one of the pillars of a strong society, and recognizes that service to others is a major component of a healthy community. Volunteerism fosters the development of leadership, compassion and selflessness; fundamental for continued growth and sustainability of our already vibrant province.
The first level of the award is the Lieutenant Governor's Make a Difference Community Award. This award is presented to six individuals from throughout the province of Manitoba. From these recipients, one will be chosen to receive the overall Lieutenant Governor's Vice-Regal Volunteer Award.
The awards will be presented by the Lieutenant Governor at the Annual Volunteer Awards Dinner on Thursday, April 19, 2018 at the Victoria Inn Hotel & Convention Centre in Winnipeg.
The Lieutenant Governor's Make A Difference Community Award will be presented to individuals who have embodied the spirit of volunteerism and have made a lasting and meaningful contribution through their volunteer activities to one or more of the following:
Their communities
Charitable or non-profit organizations and groups
Community boards, associations, or groups
Public institutions (arts, education, correctional, health, libraries)
Church groups
Who Can Be Nominated?
Eligible nominees must:
Be living residents of Manitoba who have been actively involved in volunteer service, and encompass the spirit of volunteerism in their daily lives, striving to inspire others.
Contribute significant time and service to the community without any remuneration or compensation for their efforts.
Through their service, provide their peers, colleagues and community at large with a better understanding and appreciation of the importance of volunteerism.
Submitting a Nomination
Nominators are to complete the nomination form and include a letter of reference and/or support from a community member, business or organization. Tell us about your nominee and what makes this person exceptional. Please be as thorough as possible as the information received will be the only information available to the judges.
Please limit submission to two pages.
Prix de la lieutenante-gouverneure pour service bénévole
Appel de mises en candidature
Créés à l'occasion de l'Année internationale des volontaires 2001, les prix du lieutenant-gouverneur reconnaissent les personnes qui ont œuvré de manière exceptionnelle pour la collectivité en tant que bénévoles.
Ayant elle-même passé de nombreuses années dans le secteur bénévole, l'honorable Janice C. Filmon, C.M., O.M., lieutenante-gouverneure du Manitoba, célèbre le bénévolat comme l'un des piliers d'une société forte et reconnaît que le service aux autres est un élément important d'une communauté en santé. Le bénévolat favorise le développement du leadership, de la compassion et de l'altruisme, ce qui est fondamental pour la croissance continue et la viabilité de notre province déjà dynamique.
Le premier niveau du prix est le prix du bénévolat Changer le monde. Ce prix est remis à six personnes de tout le Manitoba. Une personne choisie parmi ces six lauréats recevra le Prix vice-royal de la lieutenante-gouverneure pour service bénévole.
Les prix seront décernés par la lieutenante-gouverneure à l'occasion du dîner annuel des Prix pour service bénévole, qui aura lieu le jeudi 19 avril 2018 au Victoria Inn Hotel & Convention Centre de Winnipeg.
Critères
Les prix du bénévolat Changer le monde seront décernés à des personnes qui ont incarné l'esprit du bénévolat et qui ont apporté une contribution significative et durable par le truchement de leurs activités bénévoles à l'un ou plusieurs des groupes suivants :
leur communauté
des groupes ou des organismes de bienfaisance ou sans but lucratif
des groupes, des associations ou des conseils d'administration communautaires
des institutions publiques (arts, éducation, mesures correctionnelles, santé, bibliothèques)
des groupes religieux.
Qui peut être mis en candidature?
Les candidats admissibles doivent :
être des résidents du Manitoba qui ont participé activement au service bénévole et qui comprennent l'esprit du bénévolat dans leur vie quotidienne, s'efforçant d'inspirer les autres
consacrer beaucoup de temps et de services à la collectivité sans rémunération ou compensation pour leurs efforts
par le truchement de leur service, mieux faire comprendre et apprécier l'importance du bénévolat à leurs pairs, à leurs collègues et à l'ensemble de la collectivité.
Processus de sélection
Un jury indépendant examine toutes les candidatures et sélectionne les lauréats.
Les décisions des juges seront communiquées par écrit à tous les candidats et personnes qui ont mis ces derniers en candidature.
Nomination Forms