Choose the Right Data Collection Method
September 28, 2022
12:00 PM to 01:30 PM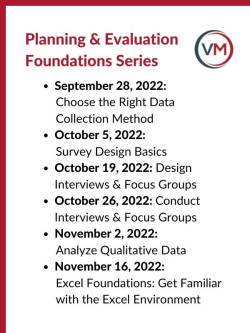 Planning and Evaluation Foundations Series
You know what you want to measure, now you need to decide who you want to gather data from and how. This series will refine your ability to design surveys, focus groups and interviews.
Workshops offered:
This series is in partnership with Health in Common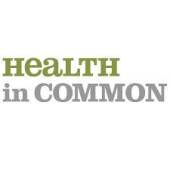 Health in Common has been working with communities, organizations, and government at the federal, provincial, and municipal level, since 2007.
With a reputation for providing quality planning and evaluation services, Health in Common provides services and training virtually and in-person. Services include strategic planning, program evaluation, engagement and facilitation, and data management. Learning options explore change management knowledge and approaches to organizational development and change.
Choose the Right Data Collection Method
If you want good data, you need the right data collection tools.
Join us to learn how to choose the method that will work for your program.
Learning Objectives:
Understand the pros and cons of a range of data collection methods.
Choose the right method to answer your planning and evaluation questions
Who should take this course:
People who plan, deliver, evaluate, or talk about the intended results of a program (e.g., program staff, coordinators, managers)
Facilitator Bio:
Sara Castagna develops communication tools, collects qualitative data and coordinates logistics. Her patience and ability to process information help ensure reports and data visualization products are accurate, intuitive and useful.
Sara manages Health in Common's social media and communication plan; developing materials for print and web. She graduated from the University of Winnipeg in 2013 with a bachelor's degree in Kinesiology. She is a certified change management practitioner.
Technical requirements:
To participate virtually, you will need a computer/mobile device with internet connection, speakers and microphone. A webcam is preferred but optional.
Location:
Virtual
Cost:
$45.00
Facilitator:
Sara Castagna
---